Beginner's Guide To Create a WordPress Helpdesk on Your Website!
Are you interested to create WordPress helpdesk on your website?
One of the important key to run your website successfully is by providing the support. It helps to keep your existing member happy as well as help to turn your visitors into your members.
No matter how good is your knowledge base is, in the end, your customer will be in need of support someday. So, in this case, WordPress helpdesk plugin will be a great help that supports your users via tickets. If you use Saas tools then you need to pay a fee every single month whereas WordPress helpdesk plugins give you equal functions for free. But if you want more functions then you can get it for a one-time fee too.
In this article, we'll show you how you can create a WordPress helpdesk by using a popular free plugin.
What is the use of a WordPress helpdesk plugin?
Customer support plays a vital role in the success of any types of business. So, in order to take your customer support to the next level helpdesk will be very helpful.
Your customers can submit the ticket directly from the front end by using the form that you control.
It helps you to collect all the information including attachments and chat history. And also, you can integrate with a plugin like WooCommerce that helps to see the user's purchase history.
Helpdesk lets you track the due dates and priorities that will help to offer better support.
Although you don't have any customers, it will help to manage the internal support for your organization.
WordPress Helpdesk Plugins
There are many WordPress helpdesk plugins available in the WordPress. But we have selected some of them by looking at its features, functions, and ease of use. You can use any of them or experiment them and use the one that is fit for your site.
Awesome Support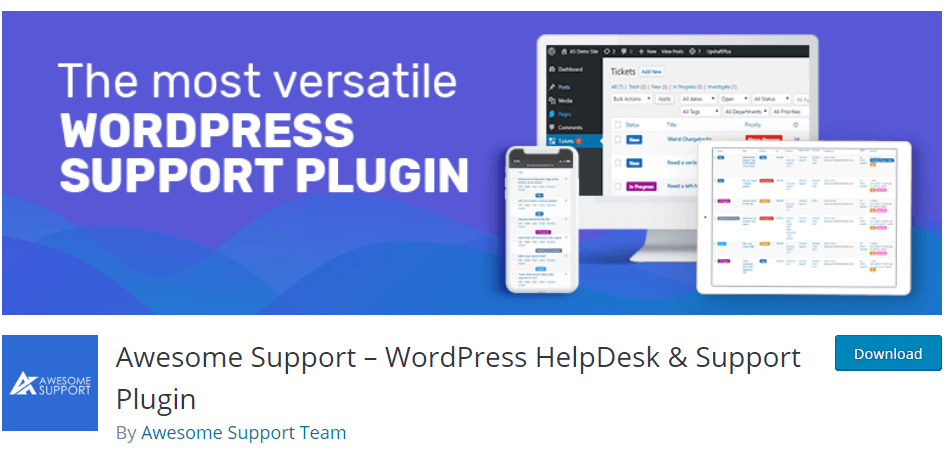 Awesome Support is the feature-rich and versatile support plugin for WordPress. This Plugin is one of the best WordPress helpdesk plugins that match the features of the SAAS solution like Zendesk or Helpscout. All the correspondence is private between client and agents and you have the full control over when to upload the files, how many files and which size. The plugins help to provide the support for multiple products and departments.
It includes amazing sorting, filtering, and tagging system for your tickets. This plugin is fully compatible with the new WordPress editor known as Gutenberg. And it uses the familiar WordPress administration user interface where you can use any 3rd party styling tool. This plugin also has a premium version so if you want you can use that too.
WP Support Plus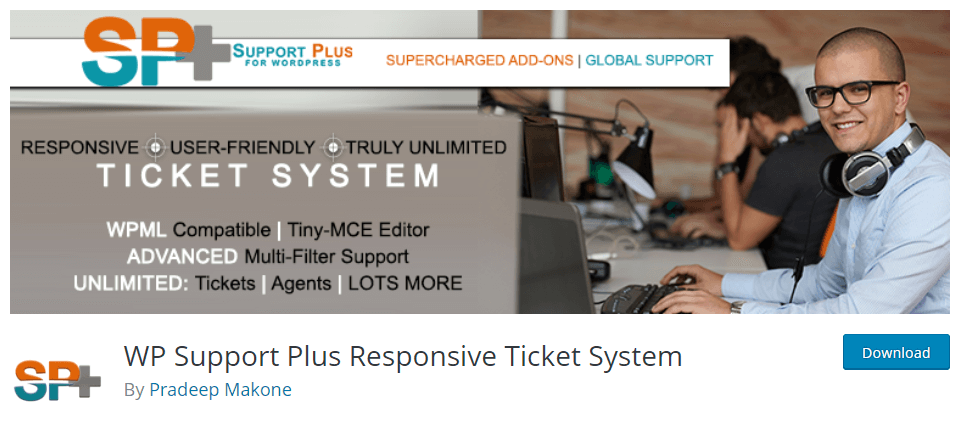 WP Support Plus is a perfect WordPress helpdesk plugin that comes with unlimited tickets and agents. It includes the front-end ticket creation for users and back-end ticket creation for agents. The plugin is translation ready so use the language that you prefer. Also, it gives access to all the premium add-ons.
You can easily submit the tickets on behalf of others. This plugin includes a Custom CSS that can be used to style some styles. If you want more functions then you can easily upgrade to the premium version.
uCare
uCare is an ultimate WordPress helpdesk plugin that helps to create a fully featured support ticket system for your business. This plugin is integrated with WooCommerce and Easy Digital Downloads. You can easily view, manage, and comment on tickets and also can update the ticket status directly from the WordPress dashboard.
uCare creates its own page that runs separately from the theme. This will have a zero impact on your site speed where none of the assets will be loaded unless the user is on helpdesk page. It also includes a premium version so if you like you can use it.
Setting up the plugin
For demonstration, today we will be using Awesome Support plugin.
Step 1: Installation and Activation
First of all, you need to go to the "plugins" and click on the "add new". Then enter "Awesome Support" in the search box after that you need to click the "Install"  button that shows up and  click "Activate".
Step 2: Test your helpdesk on the front-end
You need to open a new incognito tab and go to the front-end to test it out. After that select the Submit Ticket option from the menu.
Create a new account to register as a test user.
Then, you can view what your customers will see every time when they submit their ticket. For example the subject field, the department, the product, and attachments.
After submitting the ticket, they can check on the status by going to the MyTicket page.
Step 3: Reply to the tickets from the backend
Here, at the backend, you can go to the dashboard. Then under All Tickets, you can see which tickets are open, in progress and closed.
And if you want to reply back then click on the ticket you want and communicate with them through the Ticket Replies area. After you have solved the problem, you can click to Close Ticket button.
And on the side, you can see Ticket details where you can find an agent, current status, and open tickets.
And,  if you would like to add the additional departments and products then the buttons are available right on the dashboard.
If you want a video tutorial on this, you can check this out.
Concluding
The free version of Awesome Support helps you to build a fully functioning WordPress helpdesk. But if you want more functions then you need to upgrade to the pro version where you can find the variety of premium add-ons. When the new tickets roll in, this will help you from assigning the tickets to agents to receiving the notifications. This plugin is very beneficial for the people to communicate with you and easier for you to manage it. You can improve the level of service and support that are provided to the existing and new members.
Have any question on how to add helpdesk to WordPress then feel free to comment us below.
You can also go through our other articles,