WordPress Pages Vs Posts – What's the Difference?
If you're new to WordPress or haven't used it for too long, you've probably come across both Pages and Posts and find them extremely similar. And for good reason to, to the layman they appear the same. Their editors are identical and the method to create and modifying both of them is similar as well. However, if we were to compare WordPress Pages vs Posts, we can find there are quite a few differences.
But while they appear to be the same, they are vastly different in actual use. It's not efficient to use a page as a post and vice versa as they exist to fulfill different purposes and have their own features that set them apart.
Yet both of them are core features of WordPress so it's a great idea to have a good grasp on the understanding of posts and pages if you want your WordPress website to flourish. So, we've arranged this post based on multiple points to contrast between posts and pages. So let's go ahead and compare WordPress Pages Vs Posts.
To make the differences clear, we've separated the comparisons in 3 different categories:
Functionality
Organization and Hierarchy
Custom Post Formats and Templates
1) Functionality:
The most basic difference between Posts and Pages is their area of usage.
Posts are dynamic content. They are listed based on their creation and update dates and can be set up to be shown based on reverse chronological order. This makes them a great medium to share information, content, and resources to your readers.
You can further set up RSS feeds and build timed Newsletters or emailed broadcasts and send content to any subscribed readers on a regular basis easily. This isn't available for pages as they are not listed chronologically.
Posts make up most of the content on your website. From blogging to posting videos and images gallery, you will probably use posts for them all.
However, pages are used to make static content on your website. Static content means content that doesn't change over time much or is generally built to provide a certain set of information to your readers at any given time.
This includes things like Disclaimer pages, Landing pages, Team information and more. Since pages unlike posts are not listed by date and usually subjected to change a lot. Since they aren't arranged by dates, you can't use them for RSS feeds as well.
So for example, let's take this webpage for Beautiful Themes: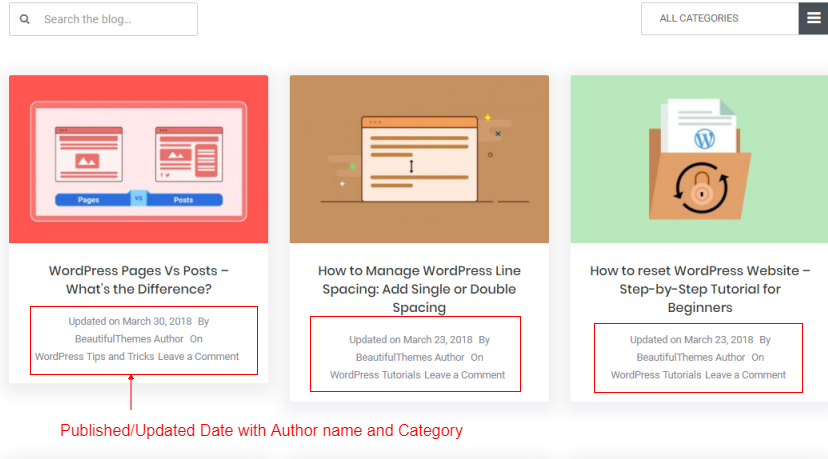 These posts are arranged based chronologically. The posts here show their published dates, authors, and categories. However, let's compare this to something like a contact page and the difference is vast.
The page only provides a contact page form and does not show the submission date or author. The information provided here is static and is not subjected to change much either.
2) Organization and Hierarchy:
We've talked about how Posts are listed based on creation/update dates and can be arranged chronologically. However, there are more features when it comes to Post categorization.
As the amount of content, you can post in WordPress is so vast, WordPress provides extra features for you to easily categorize your content and organize them accordingly.
Therefore, we use Tags and Categories to give a categorization attribute to our posts and arrange them together based on the posts' character. Whether its tutorial posts, opinionated content, photographs or videos, you can arrange them accordingly using their tags and categories, set up menus for it and provide searching and indexing parameters as well.
However, pages do not have categories and tags. They instead use the concept of hierarchy and attributes. A single page can have sub-pages inside it to easily arrange large content in a sharp and clean manner.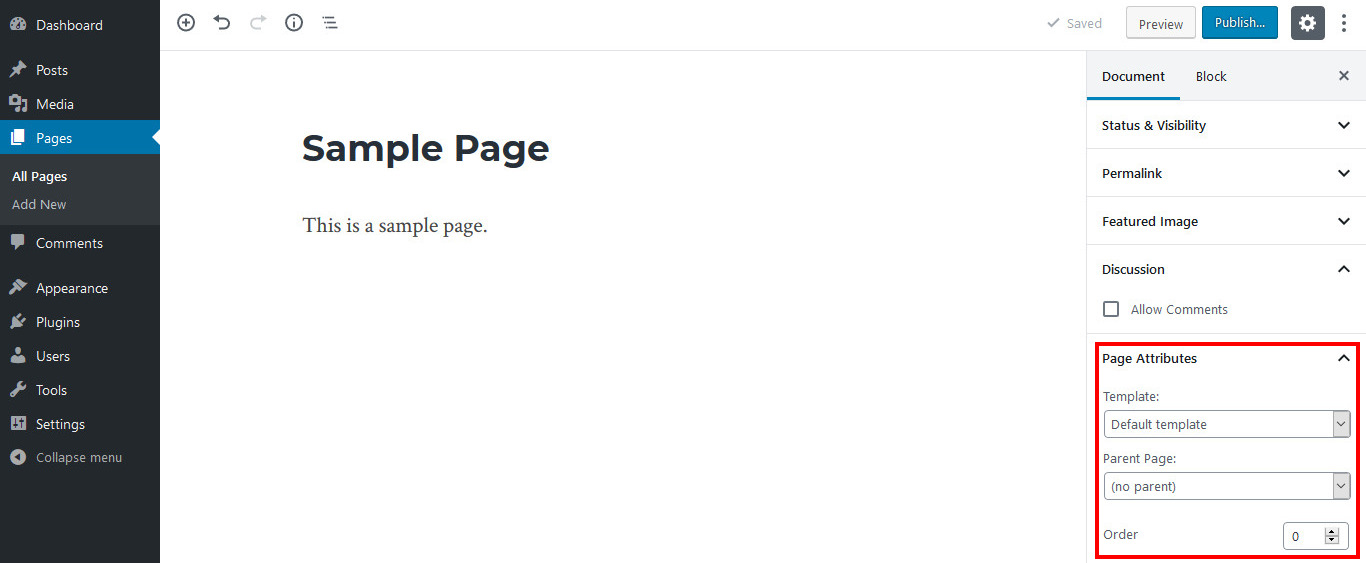 Thus, the base page becomes a parent page and the sub-page becomes a nested page or a child page. This helps you easily group multiple pages together and bundle them together for your reader's convenience.
For example, take an About-Us page made for your organization. Rather than just give a brief explanation about your team or give bulletined descriptions of your team members you can set up a nested page for each of your team members and bundle them together. This makes the about Us page look cleaner and makes the post easier to read as well.
3) Custom Post Formats
An important difference between Pages and Posts is the existence of Post Formats. Post formats are pre-built styles for various types of content used to provide a different presentation style for different types of content. This means that you can enable your posts to look depending on the type of content it shows.
This feature allows users to create a distinguishing style for text content, videos, images, galleries and more. Post format is an important part of the blogging aspect of WordPress and allows bloggers to enable various types of content in a single blog but with distinctive looks and styles.
However, post formats require a good understanding of WordPress coding to create and customize. This isn't a task achievable for beginners. WordPress (or to be precise its default themes) by itself by default doesn't provide users pre-built page templates.
However, different WordPress themes, especially premium ones. come with pre-built post formats for you to use. Our current endorsed themes of ThemeGrill™ themes are no exception.
While pages don't have separate formats, they do have Page templates for allowing you to create different styled, uniquely made, individual pages for various purposes. This, however, is not an exclusive feature and is available in posts as well.
Similar to Post formats, building a custom page template requires a good amount of understanding of coding as well. These are also, however, provided by theme developers and are made ready-to-use for page authors.
Templates can provide additional features and appearance improvements based on how the theme developer's design(or your own if you built them yourself). Most premium themes come with templates for landing pages, contact page, page builders and more.
Concluding:
Hopefully, this post helped you find out the differences between Posts vs Pages in WordPress. Remember that their uses can vary a lot depending on what you want with your content. Always try to make sure that dynamic content stays in posts and static content stays in pages. However, the number of their uses and how you subject your readers to content using them can differ widely according to your desires.
Similarly, if you want to learn more about WordPress elements and features, feel free to go through the following articles: