Where & How to get Dedicated WordPress Support and Help Within 24 Hours
One of the leading platforms, over 25% of the internet uses WordPress as their content management system. The reason for this is their great range of services ranging from templates to plugins to security, suggests, fixing bugs and flexibility with other apps. It is an open source community that you can join for absolutely free.
But with increased users, often times there are confusions and complications that require attention. So how does WordPress manage this? Well, there are not only WordPress but a lot of experts and blogs that are dedicated to providing us with the solution. You can find hundreds and thousands of guides, tips and tutorials regarding WordPress on the internet, our blog is an example.
When it comes to asking for WordPress support and help, we have noticed quite a lot of people struggling with it. Often times they do not know where to go for help and most of the times their request go unanswered. So to help you get the idea of where and how to get the support you need, we are here today with this handy guide!
Understanding Where to Ask For WordPress Help
WordPress is a vaguely large platform where thousands of individuals are performing tasks on a daily basis. The first thing you need to understand is to who to ask for help and how to get the support you need.
So where can you get the help and support that you need? Not to fret, we have made a list that deals with the best platforms to get the expert WordPress help within 24 hours.
1. WordPress.org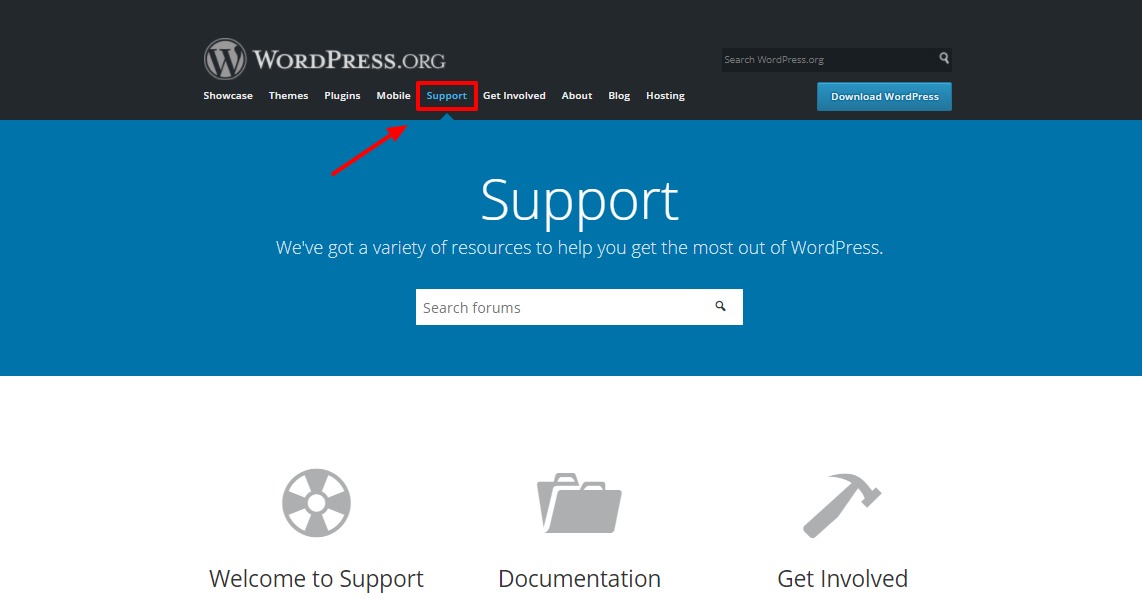 This is the official WordPress help forum and you can access this right from the website. All you need to do is navigate to the Support button on the main menu. Once you go there, you can search for forums to get the WordPress support on the topics that you will relate to. The resources are genuine and based off of experts with experience as well as the developers and creators of WordPress. Not only this but from this site, you can gain the WordPress support from the developers that deal with a specific plugin or template so that you find answers to your queries.
Although the process is a simple step, here is a guide to help you through it after you select Support and login to your account.
You will be redirected to the page where you see the list of available forums of different categories. Select the category and view the forum.
Once you get to the forum section you will find all of the answered questions there. If you don't find the answer to your questions, you can also ask a new one.
Visit WordPress.org Support Page
2. WordPress Theme/ Plugin Support Page (Third Party WP Companies)
If you need help with a certain plugin or template, you need to understand that not all of them are a part of the official WordPress core team. This means that you need to reach out to their specific developers or authors who can help you.
Anything else related to WordPress you can find it from their WordPress support forums and their support tab to help you with your needs.
For example, let's check out where you can get support for Flash theme.
As you can see in the image above, most of the WordPress theme or plugin providers do have product landing page which looks similar to above image.
I have highlighted the sections where you can get support. First, there is a support tab. If you click on that, it'll take you to theme support page from where you can access support ticket page as well support forum.
Second, there's a live chat icon. If you want an instant support, you can simply click on that chat icon and start live chat.
Third, there are two button links 'Forum' and 'Support' in the header. These two links redirect you to the general support forum and email support (support ticket) page.
That's not all. You can also get step by step guide and lots of information about the theme/ plugin in the documentation. If you check documentation, you may not need to contact support ever. Furthermore, most of the WP theme and plugin companies have their own YouTube channels where they publish simple and comprehensive video tutorials.
Also, check out our channel 'Beautiful Themes on YouTube' for simplified WordPress tutorials.
3. Quora
Unquestionably you have to be very polite and straightforward while asking for help on the above-mentioned support areas. However, sometimes even the polite request for support is denied. Why? Because most support sites are down and inactive after a while. So it does not matter how polite or detailed your question is if the platform you asked your question is inactive. So, you must look for some other platforms like Question Answer site Quora.
Another great platform to ask questions to get WordPress support services is the website Quora that basically has the answers to all questions. Here you can place your queries while experts on the related topic will give you their opinion and suggestions so that they can help you get your answers. It is an open platform where you can ask questions and get the answer to any WordPress related or unrelated topics.
Start off by logging into Quora using any of your email ID. Once you are in, you will see the option to ask a question either on the right-hand side or on the top of the page. You can place your questions there for others to see. After this, all you have to do is wait for the answer. This is an open community of individuals where you can ask or even answer queries that you have knowledge of.
4. Rise Forums
WordPress as a widely used and popular platform doesn't lack any required service. No wonder there are a number of independent third-party websites offering 'WordPress support services' exclusively. Among numerous such websites, Rise Forum comes at the front.
Rise forum is an awesome website or forum dedicated to the like-minded WordPress and website users. Here you will find your answers to any questions related to WordPress or any other websites through the community and forums available here. Not only this, but it is also a great place for you to get all of the news and updates about WordPress as well.
Here is a glimpse of what you can do with this site. These forums and discussions are all related to WordPress. You can join the discussion, ask a question or answer for others. Simply sign up for the site and you will get all the WordPress support service you require.
How To Properly Ask For Help/Support
Whether you are placing your queries on the WordPress support forums of the plugins or template page or in the official WordPress community, you should know how to write questions so that the developers fully understand and can help you out.
Don't know how to? Here are some tips to get the help you need right away.
Whether it is about any addons or existing WordPress issues, be sure to let them know in a polite way. Why? Because WordPress is a free platform with tons of free features that you can use, respect is the least you can pay for your usage. Also, when you type out your complaints properly, you have a better chance at getting a response back. If you use vulgarity or any non-sensical approach, it has better chances to be reported and set as spam rather than solving your problems.
State the exact problem, why it seems to not work as well as the ways that you have tried to solve it. This way, you will reduce the chances of repetition when it comes to the solution for the problem.
With these tips and tricks, you will able to place the exact query so that the support forums and experts can get the professional WordPress.
Wrapping it Up
When you need WordPress support or help, we have already summed up where to go for help. The sites we have linked above can help out as well. WordPress being one of the most common website platforms, there are tons of other sites that can help you. If you have tried and got your answers through other sites, do let us know so that we can update and inform others as well.
If you need help with other topics that are WordPress related, our blog is also one of the places you can get your answers from. Go ahead and check out other articles that may help you.
Do let us know what we can do to improve and update our blog. We value your response so you can leave a comment down below!