How to Use a Custom WordPress Login Form Plugin to Improve your Site
In this day and age, the internet is absolutely packed with all sorts of content. Even if your website is targeted towards a niche topic, it's an uphill struggle to get noticed among all the other websites. As a result, you're going to need every advantage you can get to make your site stand out. Not just in terms of content and functionality, you will need a look for your WordPress site that is striking and memorable. One underrated way of doing so is by personalizing your login page. It can easily be done using a custom WordPress Login Form Plugin.
With just a bit of effort, you can have a lively and vibrant login page instead of the bland looking default one. Plus, you can select the images and colors to have it reinforce your brand. When visitors log in, you can serve them a page that is just as amazing to look at as the rest of your site. In order to do that, we are going to be using the LoginPress plugin.
How to use a custom WordPress Login Form plugin to improve your site?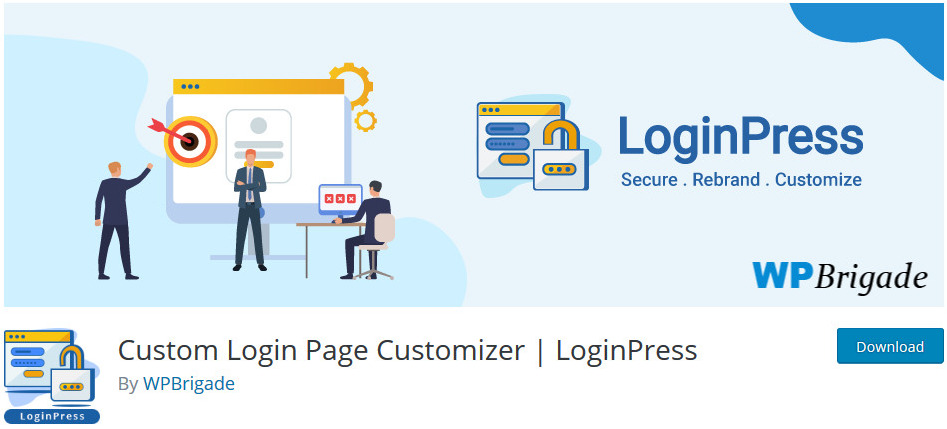 First of all, you are going to need to install LoginPress for your site. If you are unsure as to how that is done, you can consult our article on installing WordPress plugins.
Now that you've installed and activated the custom WordPress login form plugin, you can move on to the next step. From your Admin Sidebar, navigate to LoginPress>>Customizer.
Here, you should be able to see a Live Customizer with a number of different options on the left side of the screen. You can alter things there and see the live previews on the right. While not all of the options are available in the free version of the plugin, it provides you with enough to customize everything to your needs.
If you go to Logo, you will be able to replace the default WordPress logo with something to represent your site properly. You can click on Select Image and pick the one you like. Underneath that, you will be able to set the dimensions of your logo. Below that, you can enter the URL and title for it. You can even disable the logo entirely but toggling the Disable Logo switch.
Under Background, you will be able to find the options to spice up that dull default background. You can set a Background Color using the color picker or choose from one of the available images in the background gallery. If none of them suit your site, you can just select a new image entirely.
Below that, you can select how the background is displayed. Just choose if it should be repeated, its position, as well as its size. This custom WordPress login form plugin even allows you to choose a background video if you like.
You can now move on to the Customize Login Form options. Here, you will be able to make your login form much more engaging to look at. You can just make the form transparent against the background with Enable Form Transparency if you want. Otherwise, you can select a Form Background Image or a Form Background Color. Once you have a fitting background, just select the dimensions of your form using the Form Width and Form Minimum Height. You can make it more rounded using the Form Radius. Similarly, you can add a shadow and select its intensity.
The custom WordPress login form plugin also allows you to set the Form Padding as well as the Border. If you scroll down, you will find the options to customize the input fields, including the Field Background, Field Text Color, and Field Width. It also allows you to set the padding, as well as the field labels if you want.
Similarly, the Customize Forget Form options will allow you to set a Background Image or Color for that page.
The Button Beauty options, like the name might suggest, will allow you to change the looks of your buttons. You can set the color and the border color for normal as well as hover modes. It also allows you to choose the shadow as well as the text color. Scroll down and you will find the options to modify the size, padding, radius, shadow, and text size of the buttons.
If you want to customize the various messages your visitors get when something goes wrong then just go to Error Messages where you can input your custom messages. Similarly, you can go to Welcome Messages and set the various messages along with the background color and border of the message field.
Now go to Form Footer and you can modify the various remaining items on the login screen. You can simply choose whether to Enable Footer Text from here. Under that, there is the option to change the 'Lost Password' text. There are also options to change the decoration, text color, hover text color, and font size. Beneath that, you will be able to set a Background Color for your footer.
Scroll down and you will be able to toggle the "Back to" text as well as customize it in a similar way. Finally, you have the option to toggle the copyright note as well as the note from the creators of the theme.
And that's it for the customization options. If you want to customize things even further, you can go to the Custom CSS/JS option from the previous menu. Just check and see how it looks and the make any adjustments you feel are necessary.
Wrapping it Up:
So that was our guide on using a WordPress custom login form plugin to make your site more engaging. You should be able to create a refreshing Login Form that suits your brand using this plugin. It won't take a lot of time and will allow you to stand out from your competition. We hope you found this article to be helpful. If you have any questions, feel free to ask.
While many tend to leave the login form as it is, there is a lot you can do with it. You can, for example, limit login attempts in WordPress as an easy way to protect your site from brute force attacks. Another clever security measure is to hide the WordPress login page entirely.
If you thought this article was helpful, why not check out more of our guides on various WordPress related topics.